Go Beyond the basics
While it might be tempting to stick to sandwiches they can quickly lose their appeal. Instead, experiment with anything from whole-wheat mini bagels to protein-packed kebabs, which will get kids excited about trying new foods. Pasta salad keeps well and can be tailored to kids' preferences, while baked whole-grain tortilla chips are fun for scooping up hummus, guacamole and tuna salad.
Breakfast for lunch is always popular with kids. Try packing grass-fed sausages or turkey bacon, quiches, breakfast burritos, yogurt parfaits, omelettes or waffles. You can make whole-grain or GF pancakes on Sunday and pack leftovers throughout the week. For an added punch of protein, layer sunflower butter between two pancakes. Vary the pancake flavors by trying pumpkin, banana-blueberry, or gingerbread.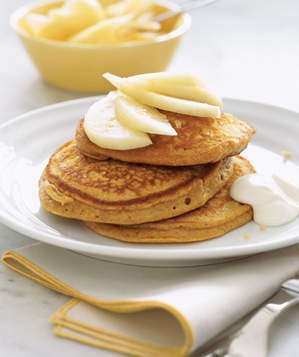 Other great ideas are deli-meat roll ups, quesadillas, rice paper rolls (put tofu, shrimp or chicken inside) and of course never forget packing your dinner left-overs in your kids' lunches. Soups are easy to make and can stay warm in an insulated thermos. Add a slice of cheese and some pita chips and you have a full satisfying meal. 
Play with presentation
A few tricks with prepping and packaging can encourage picky eaters to give new foods a try. Bite-sized foods work well packed into Bento-style lunchboxes, and fun, frilly toothpicks can be packed with small cubes of fruit and cheese. You can separate foods using muffin wrappers for added appeal. Cookie cutters are great tools for making fun shapes with sandwiches, cheese and fruit. Protein, fruit, and veggies look great on a skewer, and dippable meals are always a hit. Plan ahead and make sure you have all your containers, skewers and wrappers on hand to make meal prep a snap. Getting kids involved in planning and preparation of the meals is also a wonderful way to spend quality time together and increase the chances of your child eating the food you pack.
If your kids are fans of taco night, as mine are, surprise them with a take to school taco bar. They will be the talk of the lunch room!
Some final Tips:
  Kids love to eat their treats first. A great way to circumvent this is to number their containers in order of eating preference. Put a #1 on the protein, #2 on the veggie and so on. Tell them if they eat boxes #1-3 they will get a special treat the following day. You can make fruit leathers as a special treat - so many great recipes for homemade versions on line. 
Sending a special little note is always a fun and heart warming thing to do. An inspirational saying for older kids or simply saying "I love you" will go a long way.
As lunch is also a social time it can create all sorts of anxiety.  For those kids who are having difficulty with the socialization, send "games-on-the go" or trivia games attached to their lunch bags as conversation starters. This will decrease their anxiety and increase their appetite and enjoyment around the meals.